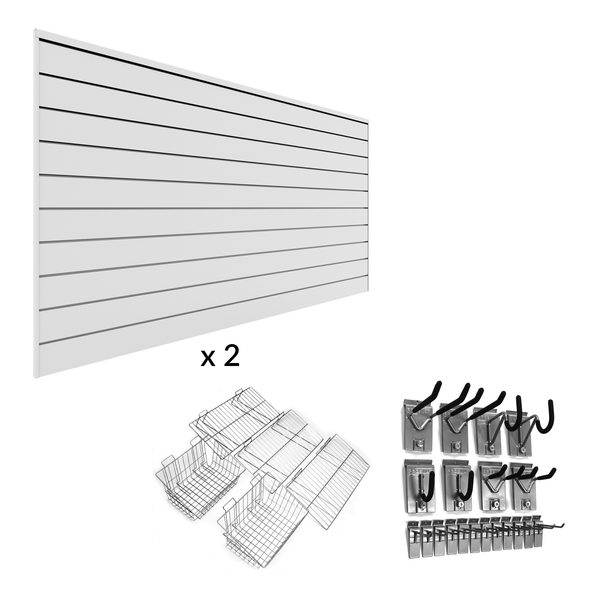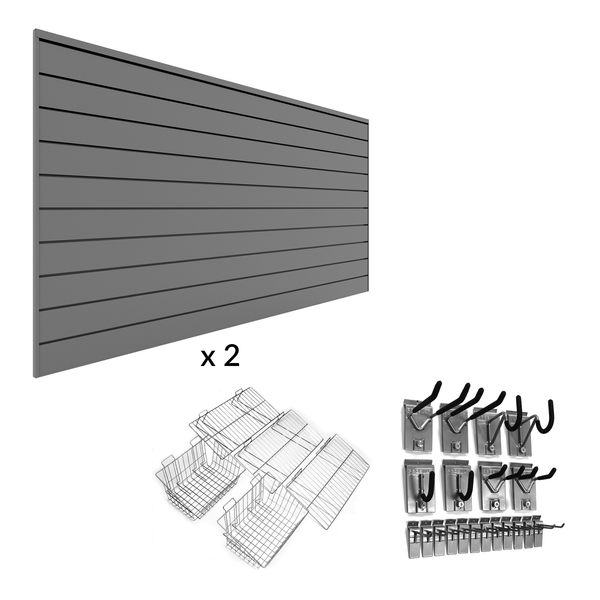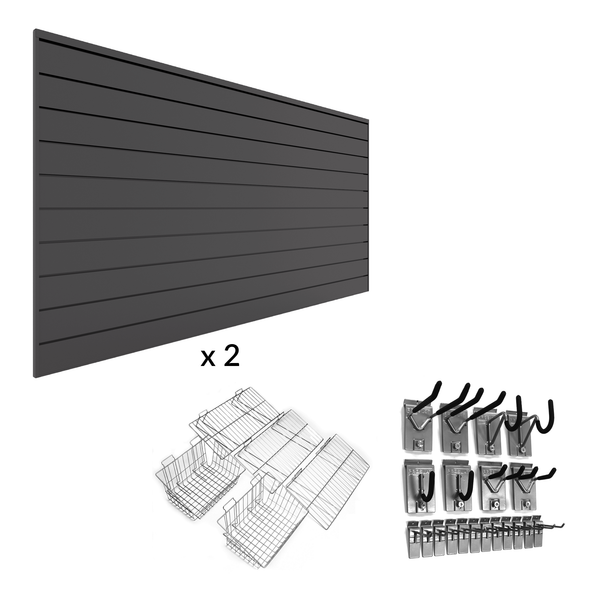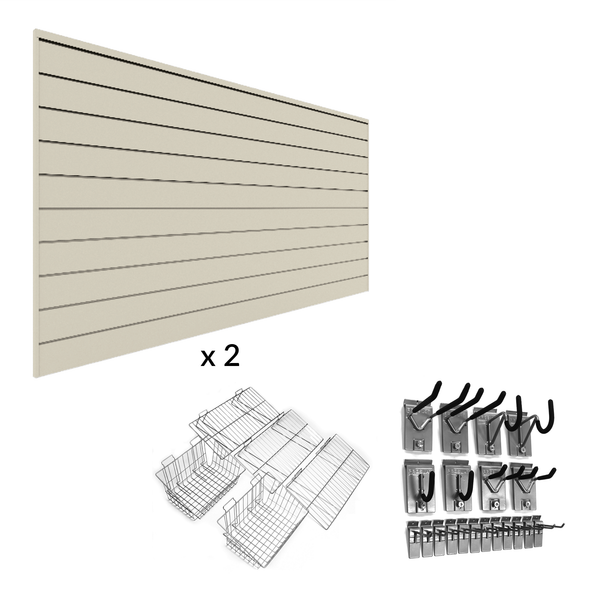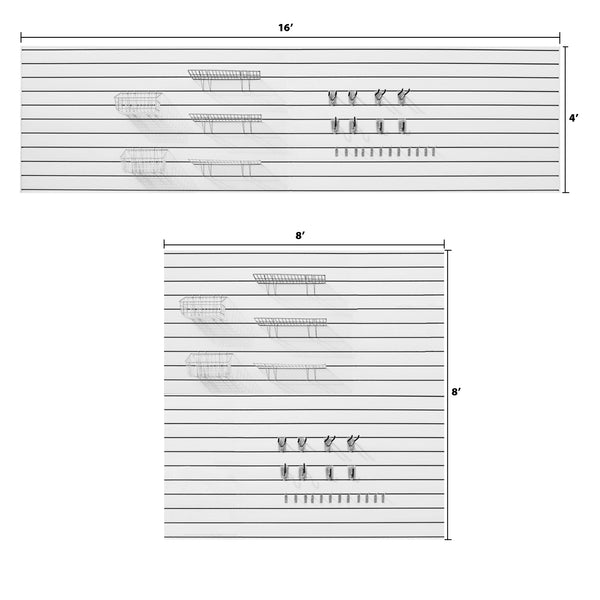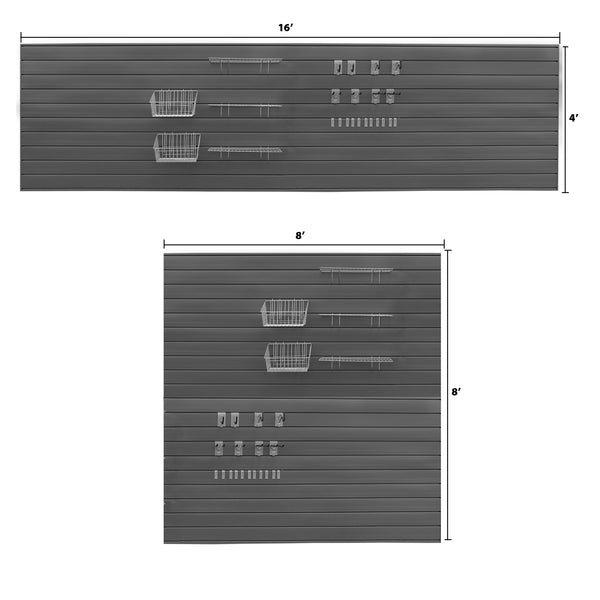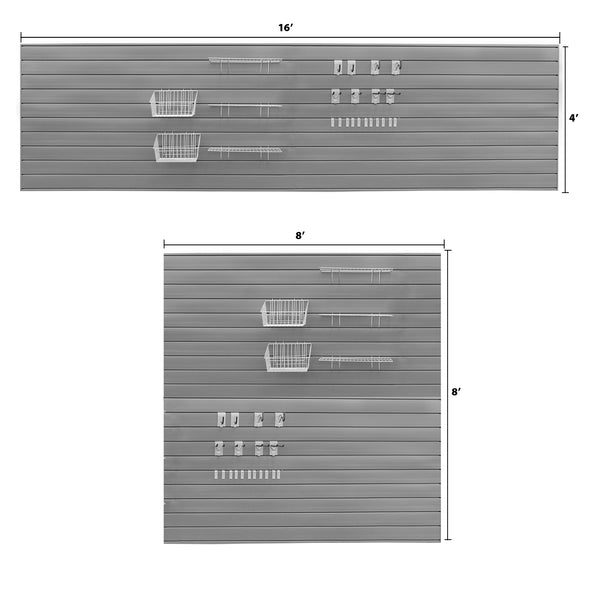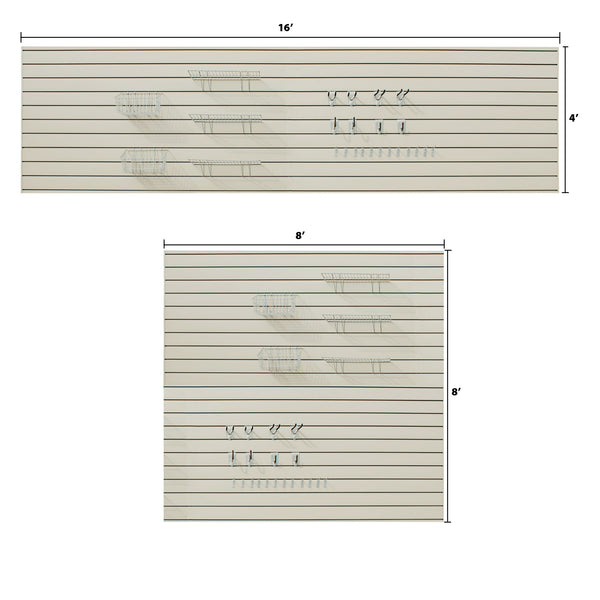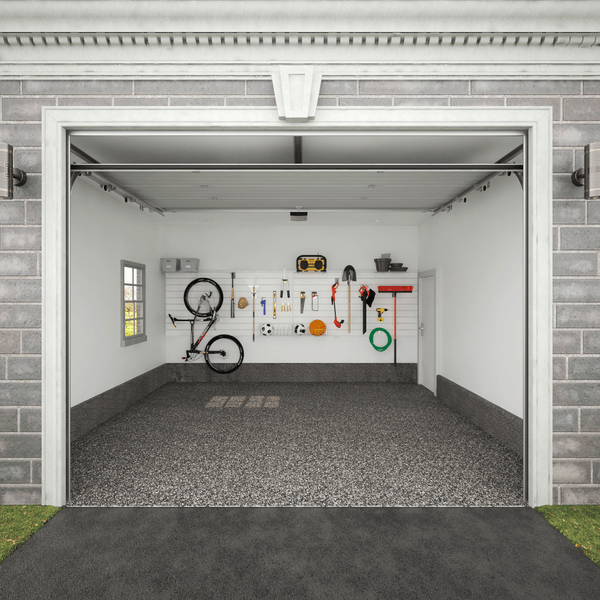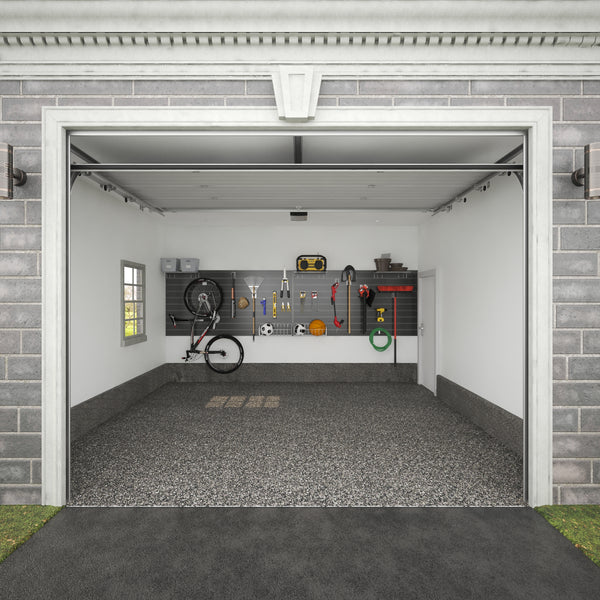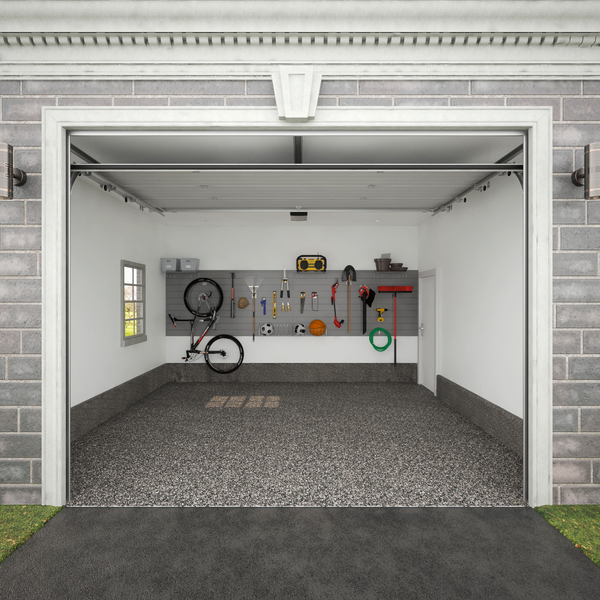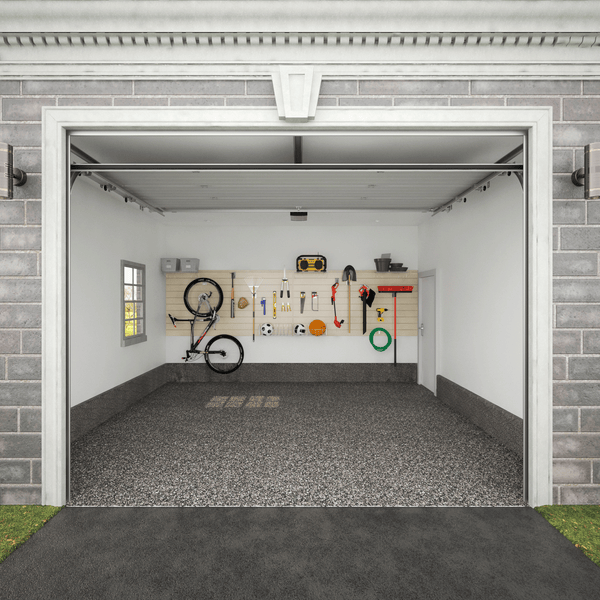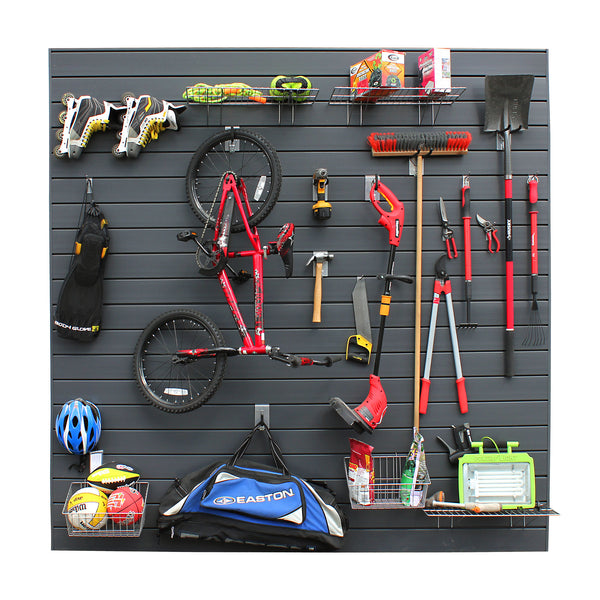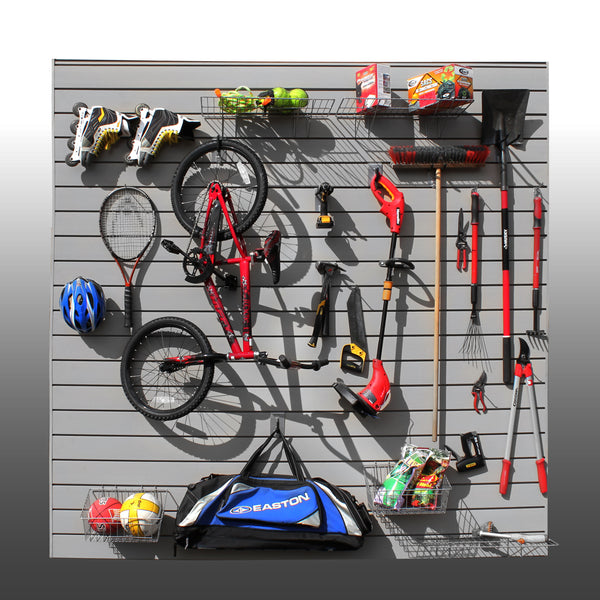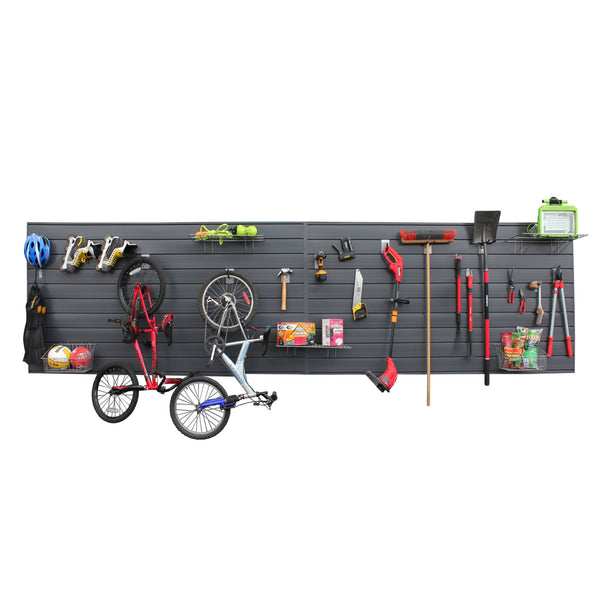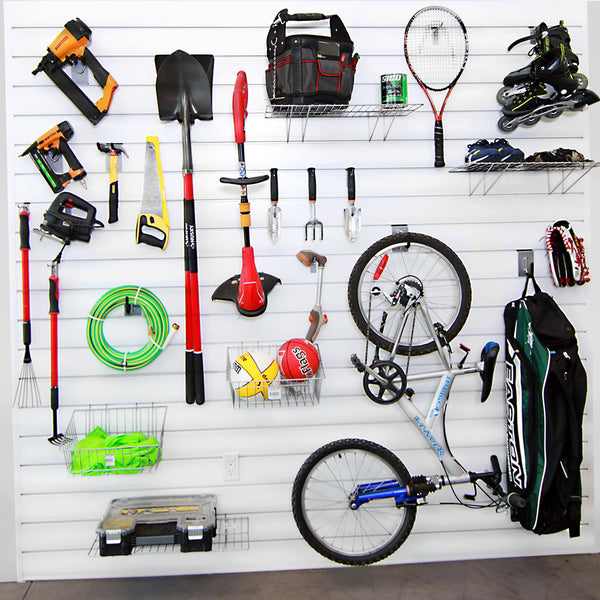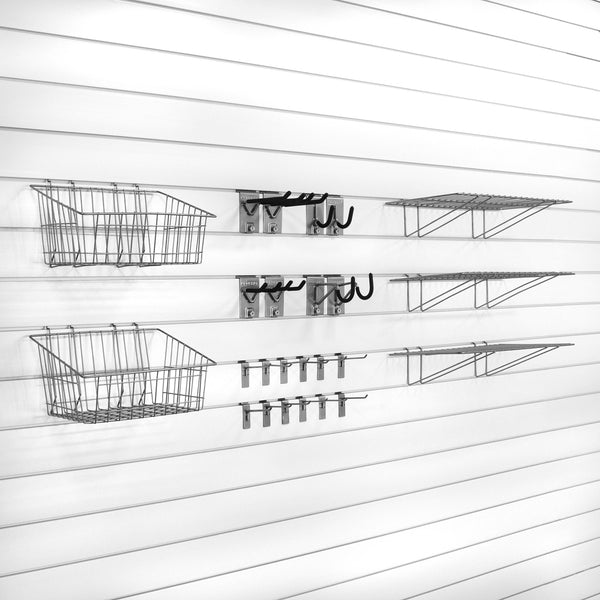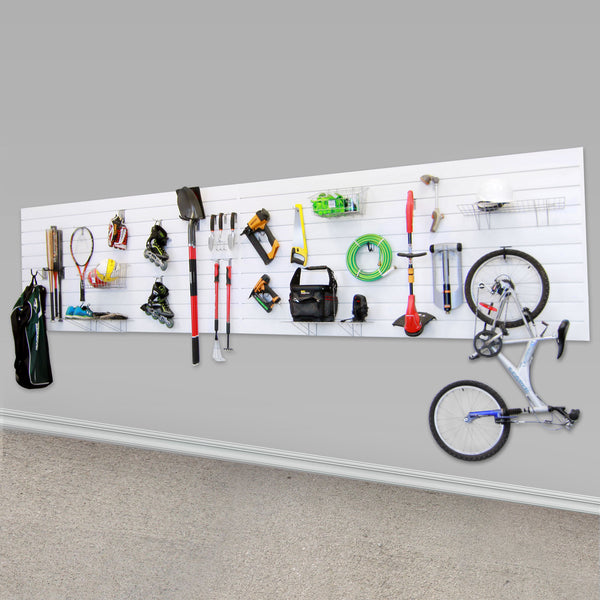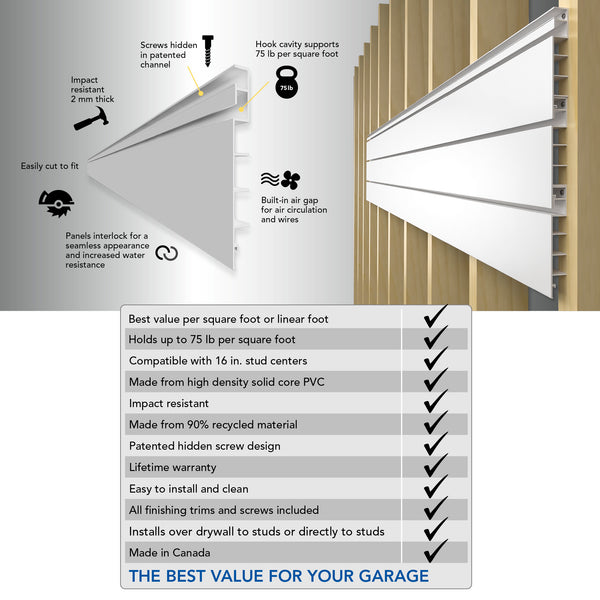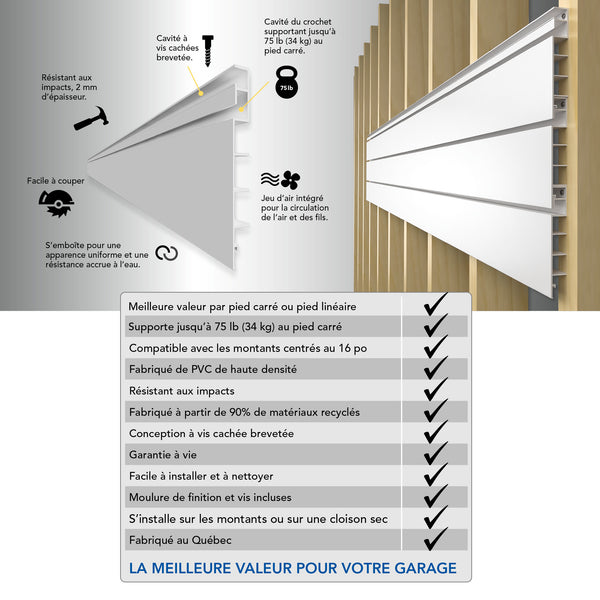 Model #33009K
The Proslat Ultimate Storage Bundle is a supreme bargain. Less expensive than if you bought it all individually, this bundle is a great way to organize any garage, mud room or anywhere in need of a good clean up.
Proslat Slatwall Panels are built  STRONG – Panels can hold up to 75 lb per sq.ft and are guaranteed for life.  DURABLE – Unlike wood slatwall, our high density PVC slatwall is resistant to moisture.   VERSATILE  –  Proslat Slatwall is one of the most versatile, as individual panels may be installed as a track, in a section or over an entire wall.  EASY – Installation is simple and the unique hidden screw design yields a professional finish.  COMPLETE – All trims and mounting screws are included in the box.  GREEN – Made of  90% recycled materials, makes us one of the greenest storage solutions on the market.  MADE HERE  –  Our Slatwall is proudly made in North America.
What's included:
2 Sections of Slatwall for a total of 64 sq.ft
Each box contains :
10 Single slats when installed make up 8ft W x 4ft H (32 sq.ft)

2 x +/- 49 in. J trims

1 x +/- 95.75 in. J trim

1 x +/- 95.75 in. L trim

Hardware and instructions
1 – 20 Piece hook kit:
  12 x 4 in. hooks
  2 x 8 in. double hooks
  2 x 4 in. double hooks
  2 x Heavy Duty hooks
  2 x U hooks
1 – Shelf and Basket kit:
  3 x Metal shelves
  2 x Metal baskets
Hardware and Instructions.
 
Total coverage: 64 sq. ft (6 sq. m.)
Great all-in-one kit to take back your garage
PVC Slatwall holds up to 75 lb. (34 kg) per square foot
Accessories clip into place and can be moved as often as you like
Can be installed on one complete wall or separate sections
Installed directly to studs or over drywall into studs
Easy to clean wipe with damp cloth or if you installed an entire wall, simply hose it down
Can run wires behind the panels to give a clean look
Lifetime warranty
8 ft. x 4 ft. PVC Slatwall
8 ft. x 4 ft. PVC Slatwall
Pros Slat PVC
I was very happy as everything went well! I phoned for support but I wish I would have checked before I ordered two kits as I would have bought an H slat. But, that's my only regret. Easy and looks great!
Hi Shannon,
Thank you for taking the time to write us about your experience. We definitely appreciate the kind feedback!
Thank you,
It's so amazing for our sports equipment
I was able to make a wall of sports equipment in the garage instead of having random sports equipment in different closets around the house. It is great quality. I'm very happy
Hi Darla,
Thank you for leaving us a review and attaching a photo! Happy to hear our products were able to help you organize all your sports equipment in one spot.
Thank you,