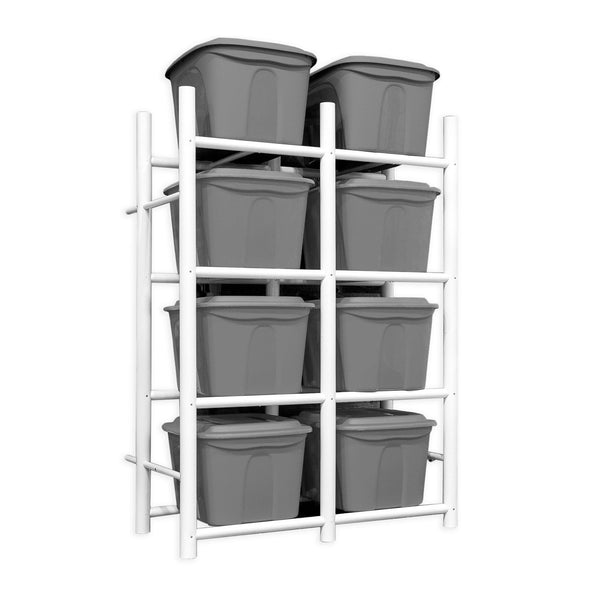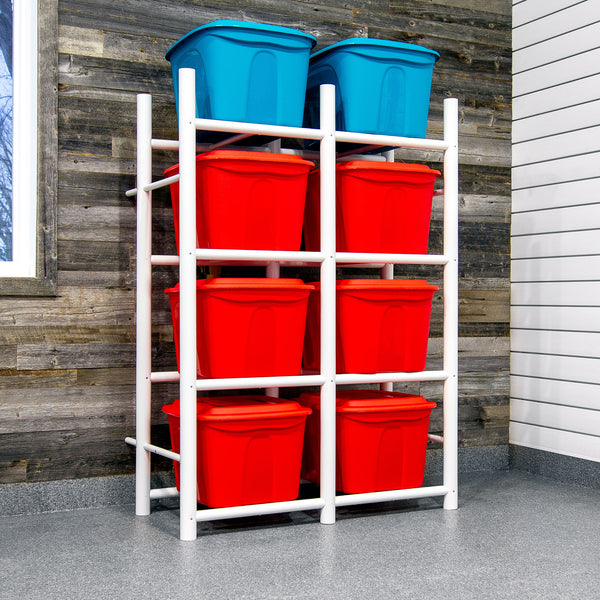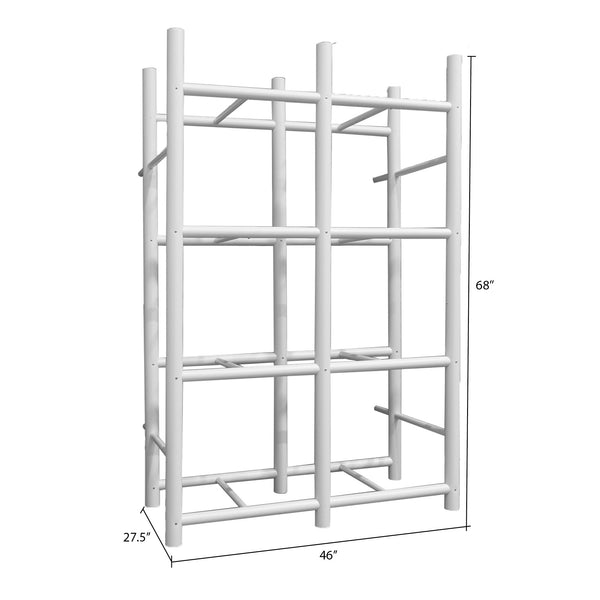 Model #65001
Storage bins have been used for home storage for many years, helping you organize anything from sports equipment, to cleaning supplies, seasonal items, kids toys and much more. Bin warehouse racks are built for you to easily and safely store all of your bins, for years of use!
Perfect for use in home, garage, basement, closet, and office organization!
*Bins and totes sold separately
Features:
Safely holds up to 800 lb (363 kg)
Easy to assemble


Recommended tote volume: 15 to 35 gallon

Must be installed to the wall for security and additional stability

Bins and totes slide in and out with ease

Maximum bin/tote size: 19.5″ x 17" x 20" (min) to 36" (max) (W x H x D)

Ideal storage for garages, basements, storage rooms, dorm rooms, walk-in closets and more.


Installed dimensions :
46" x 68" x 27.5" (W x H x D)
Bin Warehouse Rack – 8 Totes
these things are a cats meow, look so good easy to put up. i would definitely recommend these and the customer service is very excellent
Bon produit en général
L'installation est simple, bien détaillée, le produit est solide une fois fixé au mur. Très pratique, fait ce qu'on attends de ce produit. J'enlève une étoile parce que le frottement des bacs sur les barres chaque fois qu'on prends ou remet un bac abîme la surface et laisse des traces. Ceci aurait dû être pensé et un protecteur de type pellicule plastique ou autre aurait dû être fournis.
Overall great shelf, make sure to secure to wall
Was sent the wrong item but customer service was great they quickly fixed the mix up and I recieved the correct item. Shelf is a bit flimsy until secured to the wall so far it's held up great, purchased bins from Canadian tire and they fit perfectly, overall pleased with the end result.
Second time around!
I used one of these PVC racks in my previous house for more than 15 years. Just moved to a new house and went back to ProSlat to order the same shelving system.strong, reliable and easy to install.
Hi Grace, Thank you for the fantastic review! We are excited to see returning customers. We appreciate your business.