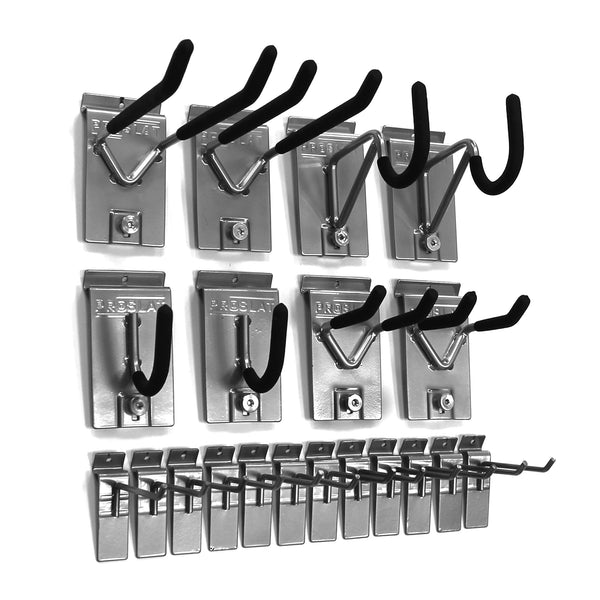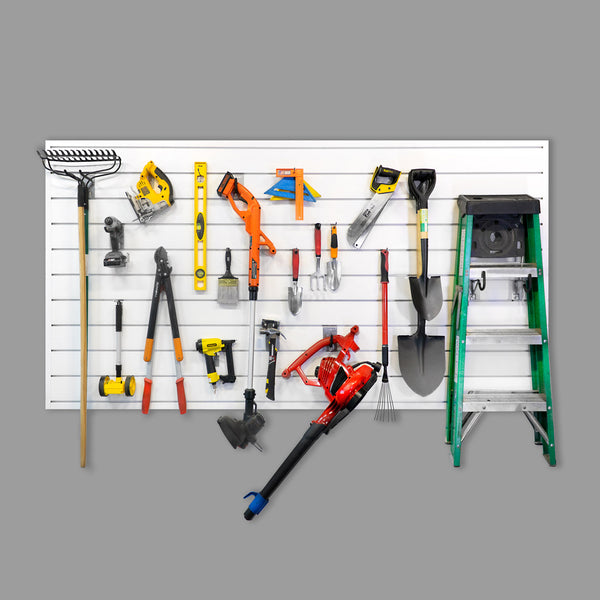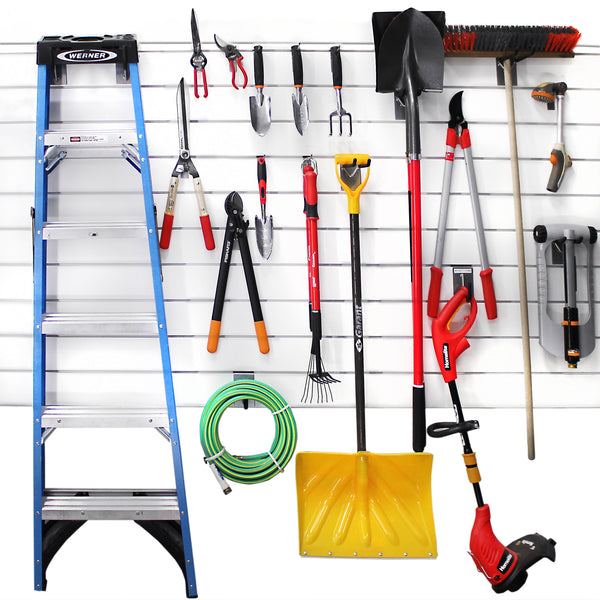 Model #11004
The Proslat hook kit includes 20 of our most popular hooks – the ultimate starter kit! Made from high grade steel, the solid 1/8 in. back plates work to disperse the workload throughout the wall.
What's included:
12 x 4 in. hook (10002)
2 x 8 in. double hook (10010)
2 x 4 in. double hook (10011)
2 x Heavy Duty Hook (10012)
2 x U hook (10017)
Fits exclusively on Proslat and Evolia Slatwall
Rubber sleeves to protect your gear. Exception to the 4 in. hooks
High grade steel. Silver powder-coated finish for increased resistance
Easy to hang and clean


Capacity per hook:

4 in. hook: 15 lb. (6.8 kg)
8 in. double hook: 40 lb. (18 kg) 
4 in. double hook: 40 lb. (18 kg) 
Heavy Duty Hook: 50 lb. (22.5 kg) 
U hook: 50 lb. (22.5 kg)
Good starter set
This is a good starting set to help you get a feel for the different types of hooks. Gave me a good sense of what else to buy to finish hanging everything else in our garage. I ended up buying the sports hook kit, a 12 pack of 1 in hooks, the shelf and basket kit, and another set of shelves in addition to complete my garage organization project. (Picture is only one side of the garage)
Thank you for your valuable review! We are glad to hear that our starting set provided you with an idea of what else to purchase to organize your garage. We appreciate your business and hope that our additional products have met your expectations as well. Thank you for choosing Proslat for your garage organization project!
Great product!
Just have to figure out how I want everything organized.
Proslat 20 Piece Hook Kit
The Proslat 20 piece hook kit contains a good mix of solid, well built hooks for various applications. I would highly recommend them.